October is for Spinners by Sharon Emery
Spider Socks by Terri Knight
The Gardener by Leslie Comstock
The Spider - Barbara G. Walker
A long long time ago in a galaxy far far away...
No sorry
Some time ago, Barbara G. Walker published in her book
Charted Knitting Design: A Third Treasury of Knitting Patterns
a design of a Spider.
Some time after that,
Leslie Comstock
designed
these
socks, and
Terri Knight
these
other socks, and
Sharon Emery
this
scarf
.
I've had all of them in my Ravelry queue for ages.
Then one day, while I was brainstorming about what would Rosalia
(a friend of mine)
like as part of the new fingerless gloves I wanted to knit for her, I remembered all those spiders. I wanted dragonflies, but spiders were ok too.
So juggling with elements from all of them I came up with this: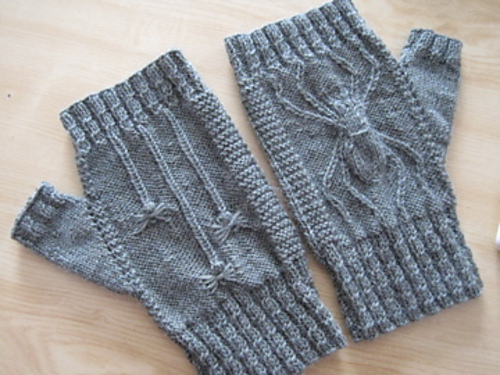 spiders on my hands I


spiders on my hands 2

Now I've made the second version for Ainhoa:
I guess I'll continue tinkering with them in future versions but I really like them as they are now.
The first ones were sock yarn, the second pair, alpaca&silk.
Fa molt i molt de temps en una galàxia molt molt llunyana...
No, perdó
Fa anys que estan a la meua cua de Ravelry.
Aleshores un dia, mentres estaba buscant idees, pensant que li agradaria a la Rosalia (una amiga meua) al les mitenes que li volia fer, em vaig enrecordar d'aquestes aranyes. Jo volia espiadimonis, però les aranyes també estaven bé.
O sigui que jugant amb elements de tots ells vaig fer els meus "Spiders on my hands I".
Ara n'he fer la segona versió per l'Ainhoa.
Suposo que continuaré modifivant-los en futures versions pero m'agraden molt tal i com son ara. els primer els vaig fer amb llana per mitjons, els segons amb una barreja d'alpaca i seda.